The Story Behind the Story

From the Chrysalis (a novel) is based on the most deadly prison uprising in Canadian history, the Kingston Penitentiary Riot of April 1971. Six guards who were taken hostage survived; two prisoners who were beaten and tortured on the final day of the four day riot did not.

Two books have been written about the riot: Roger Caron's Bingo: Four Days in Hell and Gregory Bell's Birdsong. Both these jailhouse authors were long-term inmates and low key leaders in the riot. Caron's book purports to be a factual account; Bell's was marketed as a novel.

If neither Bingo nor Birdsong addresses the role played by the inmate who protected the hostage guards, it's no wonder. At the time of the riot, there were over 600 prisoners in the Kingston Pen and at least as many stories.

From the Chrysalis is about the inmate who protected the guards and was later one of thirteen men charged in the torture deaths of two prisoners. I called this inmate Dace Devereux.

Dace's younger cousin Liza had great hopes for him—hopes he'd survive, hopes he'd get out and stay out, hopes people would stop thinking he got away with murder in the prison riot, hopes they would always be together.

This is her story too.

Recommended for readers 18 and over. Apart from the forbidden relationship, there's a realistic but painful portrayal of what life is like for Dace, in prison and post-prison
.
On sale now!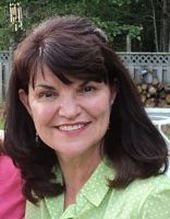 From the Chrysalis
is my first novel, but I have always written. If I could, I would spend all my time writing and reading, but I am also a reference librarian, a family historian and the mother of a rather large family. My work as a reference librarian helped heighten the suspense and enrich the setting of
From the Chrysalis.
This novel is currently available in e-book and/or paperback format at the following locations:
Amazon.ca
Amazon.co.uk
Amazon.com
From the Chrysalis
begged for a sequel, so I am currently writing about Dace's escape from a corrupt penal system and his dual mission to clear his name and find out where the monarch butterflies really made their winter home.
Feeling for the Air will be available shortly. Please feel free to contact me at:
karen.black@sympatico.ca
---
Enter to win